Mara Mather
Associate Professor
Gerontology/Leonard Davis School
Research Topics
Emotional memory
Cognitive neuroscience of aging
Stress and decision making
Research Images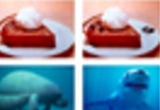 Research Overview
The frequency of negative affect decreases throughout most of adulthood whereas the frequency of positive affect remains mostly stable across the lifespan. This improvement in the ratio of positive to negative affect is surprising given declines in physical and cognitive function with age. Furthermore, we have found that older adults are more likely than younger adults to favor positive over negative information in their attention and memory. We have been investigating the cognitive and brain mechanisms underlying these age differences in emotional processing. Given older adults' well-maintained emotional functions, interactions between emotion and cognition might be particularly relevant for understanding and improving cognitive performance in older adults.

We are also investigating the effects of stress on decision making. Stress affects brain systems involved in risk and reward processing and influences learning and retention of emotionally arousing information. Yet, despite the fact that important decisions and stress often go hand in hand, little is known about the influence of stress on decision processes.

Contact Information
Mailing Address
3715 McClintock Ave
Los Angeles, CA. 90089
Office Phone
(213) 821-1868
Education
A.B. 1994 Psychology - Stanford University, Stanford, CA.
PhD 2000 Cognitive Psychology - Princeton University, Princeton, NJ.
Selected Publications
View a complete PubMed search
Mather, M., & Nesmith, K. (2008) Arousal-enhanced location memory for pictures. Journal of Memory and Language. 58:449-464.
Knight, M., Seymour, T. L., Gaunt, J. T., Baker, C., Nesmith, K., & Mather, M. (2007) Aging and goal-directed emotional attention: Distraction reverses emotional biases. Emotion. 7:705-714.
Mather, M. (2007) Emotional arousal and memory binding: An object- based framework. Perspectives on Psychological Science. 2:33-52.
Novak DL, Mather M. (2007) Aging and variety seeking. Psychol Aging. 22(4):728-37. PubMed
Sison JA, Mather M. (2007) Does remembering emotional items impair recall of same-emotion items? Psychon Bull Rev. 14(2):282-287. PubMed
Budson AE, Mather M, Chong H. (2006) Memory for choices in Alzheimer's disease. Dement Geriatr Cogn Disord. 22(2):150-158. PubMed
Mitchell, K. J., Mather, M., Johnson, M. K., Raye, C. L., & Greene, E. J. (2006) An fMRI investigation of short-term source and item memory for negative pictures. NeuroReport. 17:1543-1546.
Mather M, Knight MR. (2006) Angry faces get noticed quickly: threat detection is not impaired among older adults. J Gerontol B Psychol Sci Soc Sci. 61(1):54-57. PubMed
Mather M, Carstensen LL. (2005) Aging and motivated cognition: the positivity effect in attention and memory.Trends Cogn Sci. 9(10):496-502. PubMed
Mather M, Knight M. (2005) Goal-directed memory: the role of cognitive control in older adults' emotional memory. Psychol Aging. 20(4):554-570. PubMed