Nina S. Bradley
PIBBS MENTOR

Associate Professor

Biokinesiology & Physical Therapy, Cell & Neurobiology
Keck School of Medicine
School of Dentistry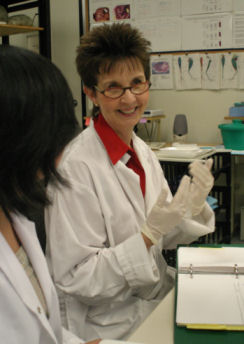 Research Topics
Behavioral Neurobiology
Developmental Psychobiology
Sensorimotor physiology
Research Overview
Development and control of repetitive leg movements during embryonic development


Our long-term objectives are to determine if fetal movements and the environment in which they are generated contribute to adaptive postnatal motor behavior. New imaging technologies are revealing ever greater details of motor behavior in the fetus for clinical diagnosis and treatment. Understanding the form, mechanisms and significance of fetal behavior will be important for maximizing clinical application of these tools. Evidence indicates fetal movement is essential for differentiating musculoskeletal structures, and may also be useful in identifying a potential medical crisis, but it is not known if specific complex movements reliably distinguish states of neurodevelopment or if they shape the neonatal motor repertoire. Results of our studies will provide fundamental information relevant to questions of prenatal experience, environmental impact on the control of prenatal limb movements during both normal development in utero and when environmental forces are altered by extremely premature birth.

Our model for prenatal motor development is the chick embryo. Like the human fetus, the chick embryo begins generating complex movements such as kicking and stepping early in development. The chick embryo is a valuable model of fetal behavior because it is amenable to combinations of behavioral, physiological, pharmacological and neuroanatomical study throughout embryonic development. Our recent studies provide evidence that leg stepping in the last 3 days before hatching is produced by neural circuits that control leg movements during locomotion. Our current studies are exploring the impact of muscle proprioception and light-induced acceleration of development during embryogenesis on control of stepping movements prior to hatching and bipedal locomotion. Our studies will provide fundamental insights into the impact of gravity and intense light exposure on motor control when the infant is born prematurely and is exposed to conditions commonly associated with neonatal intensive care.
Contact Information
Office Phone
(323) 442-2910
Education
BS 1975 Physical Therapy - University of Southern California
MS 1983 Kinesiology - University of California, Los Angeles
PhD 1986 Kinesiology - University of California, Los Angeles