Berislav V. Zlokovic, MD, PhD
Director, Zilkha Neurogenetic Institute
Professor and Chair,
Department of Physiology & Biophysics
Mary Hayley and Selim Zilkha Chair in Alzheimer's Disease Research
Zilkha Neurogenetic Institute
Keck School of Medicine of USC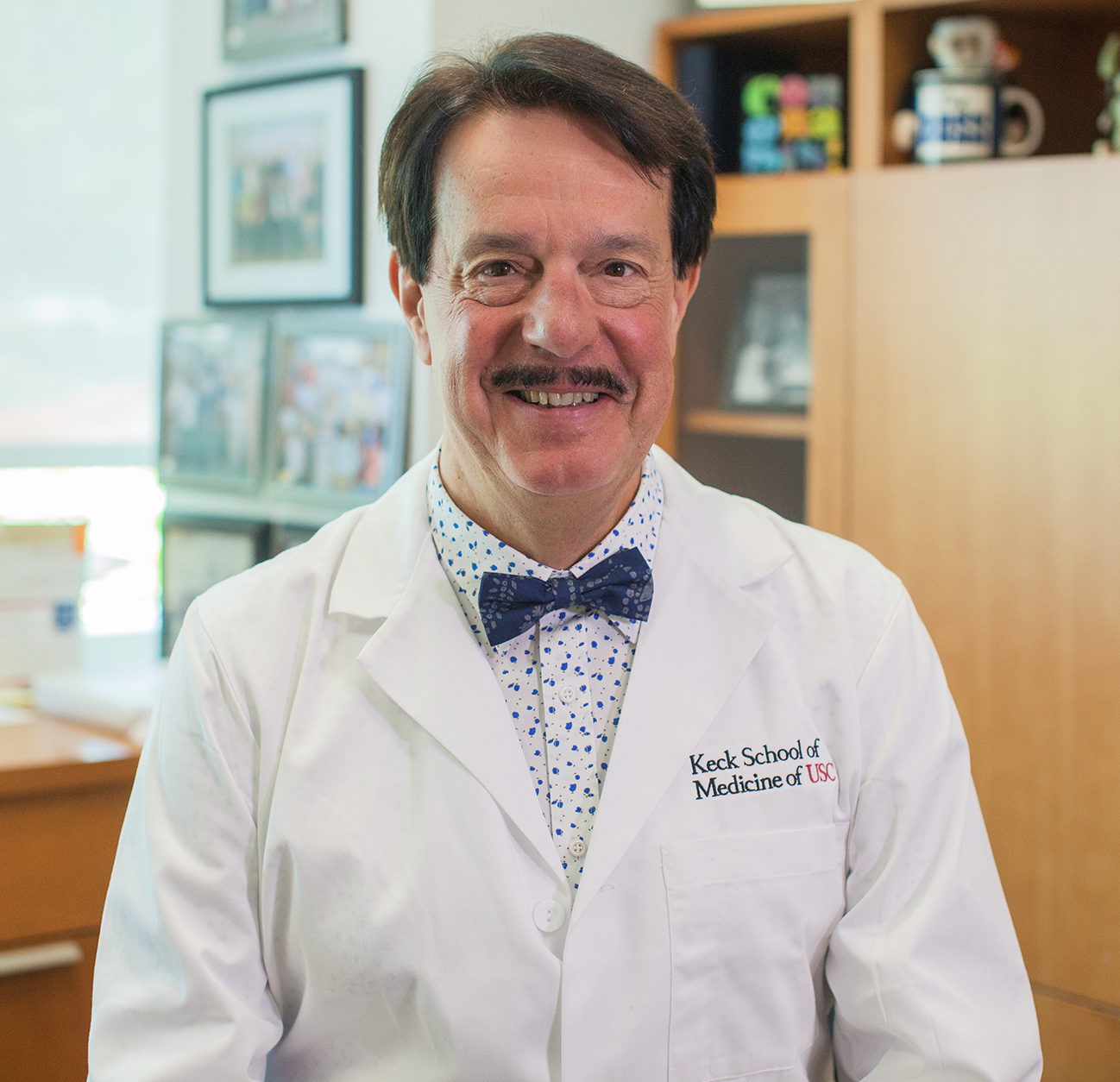 Research Topics
Alzheimer's Disease
Ischemia and Stroke
Activated Protein C System
Amytrophic lateral sclerosis
Blood-Brain Barrier
Cerebral microcirculation and regulation of cerebral blood flow
Research Overview
Berislav V. Zlokovic is the director of the Zilkha Neurogenetic Institute and Professor and Chair of the Department of Physiology & Biophysics at the Keck School of Medicine of USC, and a Professor of Biological Sciences at the Dornsife College of Letters, Arts and Sciences. Zlokovic has a life-long career in studying the role of cerebral blood vessels in the pathogenesis and treatment of neurological disorders such as Alzheimer's disease and related disorders and stroke. Using animal models and studying human brain, his laboratory has shown that dysfunction in the blood-brain barrier and brain microcirculation can accumulate before neuronal dysfunction and contribute to the onset and progression of different neurological disorders and symptoms including dementia. His research team has identified the cellular and molecular mechanisms in cerebral blood vessels causing disruption of the blood-brain barrier and neurovascular unit, which leads to neurodegeneration in models of Alzheimer's disease, pericyte-deficient rodents and stroke. His group has also identified molecular mechanisms at the blood-brain barrier that maintain clearance of Alzheimer's toxin amyloid-beta from the brain into the circulation, and its influx or re-entry from the circulation into the brain, reflecting an important physiological function of the blood-brain barrier in maintaining brain amyloid-beta homeostasis. Discoveries of his research team have contributed to the development of clinical trials for Alzheimer's disease (Phase 2 and 3 studies) based on clearance of amyloid-beta and/or blockade of its re-entry into the brain, and stroke based on activated protein C treatment that has currently completed assessment in stroke patients (Phase 2) as a neuroprotective agent.

Zlokovic's more recent research interests are focused on genes that influence the risk for Alzheimer's disease, particularly how APOE4, PICALM, and CLU affect the cerebrovascular system. In these studies, he uses different transgenic animal models, and human inducible pluripotent stem cell-derived neuronal and blood-brain barrier in vitro models of neurological disorders. He and his research team have also developed novel neuroimaging methods in the living human brain and animal models and novel molecular biomarkers of the neurovascular unit to evaluate how blood-brain barrier and cerebral blood flow functions influence brain connectivity and cognition. He also remains interested in developing advanced approaches with activated protein C therapy for stroke and other neurological disorders.

Zlokovic is recognized internationally as a leader in the fields of Alzheimer's disease and stroke. Thomson Reuters listed Zlokovic as one of "The World's Most Influential Scientific Minds" in 2002-2012, 2014 and 2016 for ranking in one percent of the most-cited authors in the field of neurosciences and behavioral sciences. He is the recipient of many awards, including the MetLife Award for Medical Research for "significant contributions to our understanding of Alzheimer's disease and for bringing us closer to a cure", the Potamkin Prize from the American Academy of Neurology "in recognition of outstanding achievements in research on Alzheimer's and related neurodegenerative diseases", the Javits Award from the National Institute on Neurological Disorders and Stroke "in recognition of distinguished record of substantial contributions in a field of neurological sciences", and the MERIT Award from the National Institute on Aging "in recognition of sustained contribution to aging and leadership and commitment to the field". He is a fellow of the American Association for Advancement of Science (AAAS) and a member of The Dana Alliance for Brain Initiative, the Serbian Academy of Sciences and Arts and The European Academy of Sciences (Academia Europeae) - the Life Sciences Class. In 2016, he was asked by the Nobel Assembly at Karolinska Institutet, The Nobel Committee to nominate one or more candidates for the Nobel Prize in Physiology and Medicine 2017.

Zlokovic is an active entrepreneur and inventor. He co-founded ZZ Biotech, a biotechnology company that is dedicated to developing new treatments for stroke and neurological disorders.

Contact Information
Mailing Address
1501 San Pablo Street
Los Angeles CA 90089-2821
Office Phone
(323) 442-2722
Education
M.D., Medical Board of California
Postdoctoral - King's College, London
Ph.D. - University of Belgrade
Selected Publications
View a complete PubMed search
View a complete Google Scholar search
Kisler K, Nelson A, Montagne A, Zlokovic BV (2017) Cerebral blood flow regulation and neurovascular dysfunction in Alzheimer's disease. Nature Reviews Neuroscience (doi: 10.1038/nrn.2017.48)

Kisler K, Nelson AR, Rege SV, Ramanathan A, Wang Y, Ahuja A, Lazic D, Tsai PS, Zhao Z, Zhou Y, Boas DA, Sakadžić S, Zlokovic BV (2017) Pericyte degeneration leads to neurovascular uncoupling and limits oxygen supply to brain. Nature Neuroscience 20, 406-416.

Wang Y, Zhao Z, Rege S, Griffin JH, Goldman SA, Zlokovic BV (2016) 3K3A-APC stimulates post-ischemic neuronal repair by human neural progenitor cells in mice. Nature Medicine 22 (9): 1050-1055.

Zhao Z, Sagare AP, Ma Q, Halliday MR, Kong P, Kisler K, Winkler EA, Ramanathan A, Kanekiyo T, Bu G, Owens NQ, Rege SV, Si G, Ahuja A, Zhu D, Miller CA, Schneider JA, Maeda M, Maeda T, Sugawara T, Ichida JK, Zlokovic BV (2015) Central role for PICALM in amyloid-? blood-brain barrier transcytosis and clearance. Nature Neuroscience 18, 978-987.

Winkler EA, Nishida Y, Sagare AP, Rege SV, Bell RD, Perlmutter D, Sengillo JD, Hillman S, Kong P, Nelson AR, Sullivan JS, Zhao Z, Meiselman HJ, Wendy RB, Soto J, Abel ED, Makshanoff J, Zuniga E, De Vivo DC, Zlokovic BV (2015) GLUT1 reductions exacerbate Alzheimer's disease vasculo-neuronal dysfunction and degeneration. Nature Neuroscience 18, 521-530.

Montagne A, Barnes SR, Sweeney MD, Halliday MR, Sagare AP, Zhao Z, Toga AW, Jacobs RE, Liu CY, Amezcua L, Harrington MG, Chui HC, Law M, Zlokovic BV (2015) Blood-brain barrier breakdown in the aging human hippocampus. Neuron 85, 296-302.

Bell RD, Winkler E, Sagare A, Singh I, Deane R, Wu Z, Holtzman DM, Betsholtz C, Armulik A, Sallstrom J, Berk B, Zlokovic BV (2012) Apolipoprotein E controls cerebrovascular integrity via cyclophilin A. Nature 485, 512-516.

Bell RD, Winkler EA, Sagare A, Singh I, LaRue B, Deane R, Zlokovic BV (2010) Pericytes control key neurovascular functions and the neuronal phenotype in the adult brain and during brain aging. Neuron 68, 409-427.

Bell RD , Deane R, Chow N, Long X, Sagare A, Singh I, Streb JW, Guo H, Rubio A, Van Nostrand W, Miano JP, Zlokovic BV (2009) SRF and myocardin regulate LRP-mediated amyloid-beta clearance in brain vascular cells. Nature Cell Biology 11(2), 143-153.

Zhong Z, Deane R, Zarina A, Parisi M, Shapovalov Y, 0'Banion K, Stojanovic K, Sagare A, Boillee S, Cleveland DW, Zlokovic BV (2008) ALS-causing SOD1 mutants generate vascular changes prior to motor neuron degeneration. Nature Neuroscience 11(4), 420-422.