Carol Ann Miller
Professor, Departments of Pathology and Neurology
Co-Director of Alzheimer's Disease Research Center
Director of Neuropathology Core
Chief, Neuropathology, Los Angeles County USC Medical Center
Research Topics
Neuronal specificity
selective vulnerability neurodegeneration
Alzheimer's disease
microarrays
Research Images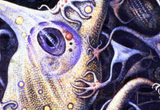 Research Overview
Neurospecificity is a key factor in selective vulnerability in neurodegeneration diseases. The laboratory of Dr. Carol Miller has focused on identifying and characterizing the function of genes selectively expressed or regulated in vulnerable neurons. For example, one gene, JNK3, a neuron-specific stress kinase responds to environmental stress. Defining protein-protein interactions of these signal transduction molecules has led to underlying mechanism leading to cell death caused by hypoxia/ischemia of strokes or amyloid (AB peptides) of Alzheimer's disease. We have also identified several JNK interacting proteins, including one, DENN-MADD which functions in synaptic vesicle release but under stress, leads to apoptosis.

Because of cross-interactions of many of these signal transduction pathways, Dr. Miller's group is using microarrays which define regulation of multiple genes. We are combining these methods with isolation of single, normal or diseased neurons from human post-mortem brain and linear "in cell" amplification of the mRNA. Once normal neuronal subpopulations are characterized, we can compare those from diseased brains, including affected or spared subpopulations early or late in the course of the disease. Using bioinformatics, we are defining functionally related clusters of genes. We expect this approach to identify co-regulation of known genes and lead to the discovery of new genes. Our work links observations in experimental models to mechanisms operative in the normal and diseased human brain.
Contact Information
Mailing Address
Keck School of Medicine of USC
Department of Pathology, MCA-341A
2011 Zonal Avenue
Los Angeles, CA 90033
Office Location
McKibben Annex Room 340
Office Phone
(323) 442-1602
Lab Location
McKibben Annex Rooms 341, 343,
Office Location
McKibben Annex Room 340
Education
Washington University School of Medicine, St. Louis, MO, 1966-1969.
Pathology and Neuropathology Resident, Post-doctoral fellow; Cell Biology, Albert Einstein College of Medicine, Bronx, NY, 1969-1972.
Assistant Professor of Neuroscience, Albert Einstein College of Medicine Bronx, NY, 1972-1977.
M.D., Jefferson Medical College, Philadelphia, PA, 1965.
B.A., Mount Holyoke College, So. Hadley, MA, 1961.