William J Mack
Assistant Professor Of Neurosurgery, MD, FAHA
Neuroscience Graduate Program
Zilkha Neurogenetic Institute
Keck School of Medicine of USC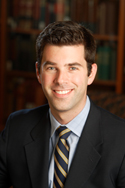 Research Topics
Inflammatory modulation of cerebral ischemia
Experimental models of stroke and cerebrovascular disease
Assessment and translation of novel neuroprotective therapies
Research Overview
My laboratory is focused on translational efforts to treat stroke and cerebrovascular disease. We are interested in inflammation and resultant microvascular failure in a range of experimental and clinical models.

We have refined an experimental model of bilateral carotid artery stenosis to examine the role of inflammation in the setting of chronic cerebral hypoperfusion. This system has enabled us to assess the impact of vascular disease on cognition and neurodegeneration. We have identified the C5 complement protein as a critical effecter of injury through histological and behavioral outcome measures. These findings lend insight into the role of complement in progressive cognitive injury and neurodegenerative conditions such as vascular dementia and Alzheimer's disease. We employ an experimental murine middle cerebral artery occlusion model to assess the impact of nanoparticulate matter derived from vehicular exhaust in the progression of acute ischemic stroke.

The laboratory also studies biomarkers of cerebral vasospasm following subarachnoid hemorrhage and employs novel endovascular delivery platforms in the setting of acute stroke. We utilize advanced MR permeability imaging sequences and serum analysis to quantify blood brain barrier breakdown in subarachnoid hemorrhage patients. Dr. Mack currently leads a multicenter phase 2a safety and feasibility study of regional and distal intra-arterial Magnesium delivery during endovascular mechanical thrombectomy procedures for acute stroke. Through distal endovascular access (catheters advanced through the blocked arteries and to the region of brain tissue damage), our team has devised a technique that allows rapid measurement and delivery of Magnesium directly to the brain tissue affected by a stroke. Using the information and experience gained in the laboratory, we are working to develop new technologies, techniques, and therapies to directly improve the clinical care administered to stroke patients.

Contact Information
Mailing Address
ZNI 221
1501 San Pablo Street
Los Angeles, CA 90089
Office Phone
(323) 442-7512
Education
BA, Neurobiology and Behavior, Cornell University
MD, Columbia University College of Physicians and Surgeons
Selected Publications
Gao F, Shi L, Russin JJ, Zeng L, Chang X, Chen TC, Giannotta SL, He S, Weisenberger DJ, Zada G, Mack WJ, Wang K: DNA Methylation in the Malignant Transformation of Meningiomas. PLoS One. 2013;8(1):e54114.
Mack WJ, Kellner CP, Sahlein DH, Ducruet AF, Kim GH, Mocco J, Zurica J, Komotar RJ, Haque R, Sciacca RR, Quest DO, Solomon RA, Connolly ES, Heyer EJ: Intraoperative magnesium infusion during carotid endarterectomy: a double-blind placebo-controlled trial. Neurosurgery 2009, 110(5): 961-7.
Mack WJ, Ducruet AF, Hickman ZL, Garrett MC, Albert EJ, Kellner CP, Mocco J, Connolly ES Jr.: Early plasma complement C3a levels correlate with functional outcome after aneurysmal subarachnoid hemorrhage.Neurosurgery 2007; 61(2):255-60.
Mack WJ, Sughrue ME, Ducruet AF, Mocco J, Sosunov SA, Hassid B, Silverberg J, Ten VS, Pinsky DJ, Connolly, Jr. ES: The Temporal Pattern of C1q Deposition following Transient Focal Cerebral Ischemia. Journal of Neuroscience Research 2006; Apr; 83(5):883-9.
Mack WJ, Mocco J, Ducruet AF, Laufer I, King RG, Zhang, Y, Guo W, Pinsky DJ, Connolly Jr ES. A cerebroprotective dose of intravenous citrate/sorbitol-stabilized dehydroascorbic acid is correlated with increased cerebral ascorbic acid and inhibited lipid peroxidation after murine reperfused stroke. Neurosurgery 2006; 59(2):383-8.
Mocco J, Mack WJ, Ducruet AF, Sughrue ME, Sosunov SA, Nair MN, Laufer I, Komotar RJ, Botto M, Holland MC, Lambris JD, Pinsky DJ, Connolly, Jr. ES Complement component C3 mediates inflammatory injury following focal cerebral ischemia. Circulation Research 2006; 99(2):209-17
Mack WJ, Huang J, CJWinfree, Kim G, Oppermann M, Dobak J, Inderbitzen B, Yon S, Popilskis SJ, Lasheras J, Sciacca RR, Pinsky DJ, Connolly, Jr. ES. Ultra-Rapid, Convection-Enhanced Intracorporeal Hypothermia: A Feasibility Trial in Non-Human Primate Stroke 2003; 34(8): 1994-9.
Mocco J, Choudhri TF, Huang J, Harfeldt E, Efros L, Klingbeil C, Vexler V, Hall W, Zhang Y, Mack WJ, Popilskis S, Pinsky DJ, Connolly Jr. ES. Huep5C7 as a Humanized Monoclonal Anti-E/P-Selectin Neurovascular Protective Strategy in a Blinded Placebo-Controlled Trial of Non-Human Primate Stroke. Circ Research 2002; 91(10): 907-14.
Ivanova S, Batliwalla F, Mocco J, Kiss S, Huang J, Mack WJ, Coon A, Eaton JW, Al-Abed Y, Gregerson PK, Shohami E, Connolly Jr. ES, Tracey KJ. Neuroprotection in Cerebral Ischemia by Neutrilization of 3-aminopropanal. PNAS 2002; 16;99(8):5579-84.
Huang J, Agus DB, Winfree CJ, Kiss S, Mack WJ, McTaggart RA, Choudhri TF, Kim LJ, Mocco J, Pinsky DJ, Fox WD, Israel RJ, Boyd TA, Golde DW,Connolly, Jr. ES. Dehyroascorbic Acid, a Blood-Brain Barrier Transportable Form of Vitamin C, Mediates Potent Cerebroprotection in Experimental Stroke. PNAS 2001; 98(20): 11720-11724.