Paul Matthew Thompson
Professor of Neurology, Psychiatry, Radiology, Engineering & Ophthalmology
Director, USC Imaging Genetics Center
Associate Director, Institute for Neuroimaging and Informatics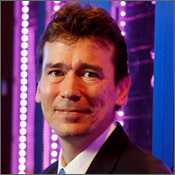 Research Topics
Alzheimer's
HIV
Development
Connectomics
ENIGMA
Genetics
Neuroimaging Methods
Diffusion Imaging
Mathematics
Bipolar Illness
Lifestyle/Save the Brain See http://igc.ini.usc.edu
Research Overview
See http://igc.ini.usc.edu

Research Overview:

I am the director of the Imaging Genetics Center (IGC), which joined USC in the summer of 2013. Alongside the 30 members of our research team, we study the major diseases of the human brain. We study which factors help or harm the brain, and how genes and environmental affect development and disease. Imaging Genetics is the study of how individual genetic differences lead to differences in brain wiring, brain structure, cognitive function, and disease. We have published brain imaging studies on Alzheimer's disease, development, brain connectivity, traumatic brain injury, HIV/AIDS, schizophrenia, depression, and bipolar illness. We also direct several mathematical and technical projects to improve methods to understand how gene networks affect the brain.

Our interdisciplinary team includes engineers, who write and apply novel computational algorithms to study topics of interest to neuroscientists. We co-founded a worldwide imaging genetics consortium, called the ENIGMA Consortium, which is making rapid progress discovering genetic variants that are related to brain structure. ENIGMA recently performed the largest brain imaging study in the world - bringing together 207 co-authors, from 125 institutions, to analyze genome-wide scans and MRI scans from 21,151 people.

We also develop non-linear image registration approaches, which fluidly deform 3D brain images to match each other. These tools allow us to detect structural differences between HIV/AIDS patients' brains and healthy normal subjects' brains, measuring brain anatomical differences in 3D. We use the same approach to map brain growth, Alzheimer's disease, and many other aspects of neuroscience. The applied deformation vector fields, with billions of degrees of freedom, are designed to align images in exquisite detail by maximizing the mutual information between their intensity distributions. Related work is developing nonlinear registration methods for alignment, de-noising and statistical analysis of diffusion tensor images. Applications include mapping patterns of brain growth in children, and detecting drug effects on the brain. We are also developing new methods for the registration, segmentation, and analysis of DTI data, using Riemannian manifold methods, tensor de-noising, and information theory.




Contact Information
Mailing Address
Imaging Genetics Center
Institute for Neuroimaging and Informatics
4th floor
4676 Admiralty Way, Marina del Rey, CA 90292
Tel: (323) 44-BRAIN (323-442-7246)

Office Location
USC Imaging Genetics Center
Office Phone
(323) 442-7246
Lab Location
USC Imaging Genetics Center
Office Location
USC Imaging Genetics Center
Education
PhD Neuroscience (UCLA), MA Mathematics/Greek/Latin (Oxford University, England, UK);
See http://users.loni.usc.edu/~thompson/thompson.html