Christian J. Pike
Professor
Leonard Davis School of Gerontology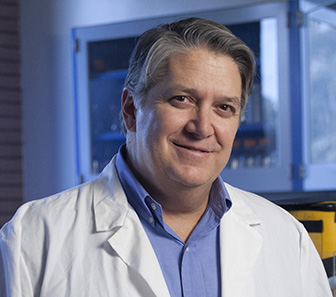 Research Topics
Regulation of Alzheimer's disease pathogenesis
The role of sex steroid hormones in Alzheimer's disease
Relationships between obesity, type 2 diabetes, and Alzheimer's disease
Signaling pathways regulating neuronal apoptosis and neuroprotection
Research Overview
Research in my lab is broadly focused on Alzheimer's disease (AD), with the general goals of elucidating factors that regulate AD pathogenesis and pursuing translational approaches that will be useful in the prevention and/or treatment of the disease. Our approach to investigating research questions involves the use of complementary cellular, biochemical and molecular techniques to analyze relationships in human tissues, wild-type and transgenic rodent models, and cultured cells.

One area of focus in my laboratory is studying how the development of AD is affected by sex differences and the sex-specific loss of steroid hormones during aging. For example, our research with postmortem human brain has helped to identify testosterone loss in aging men as a risk factor for AD. In rodent models, we observe that depletion of androgens accelerates development of AD-related neuropathology and increases neuronal vulnerability to toxic insult. We use cell culture studies to identify the relevant underlying mechanisms for these androgen effects, including investigation of classic genomic actions as well as activation of rapid cell signaling pathways. In ongoing translational studies, we are building upon our basic science advances to develop specific therapeutic interventions that selectively activate protective androgen pathways (e.g., TSPO ligands, synthetic testosterone mimetics). Using this general research strategy, we are pursuing conceptually parallel basic science and translational projects to evaluate the interactions between estrogen and progesterone actions in the regulation of neurodegenerative cascades associated with AD in females.

A second area of research in the lab seeks to understand the relationships between obesity, type 2 diabetes, and AD. Epidemiological findings have identified obesity in middle age, and its downstream consequences metabolic syndrome and type 2 diabetes, as significant risk factors for the development of AD in old age. Our efforts are focused at understanding the mechanistic links between these conditions, including the interactive roles of adiposity, neuroinflammation, and age-related changes in testosterone and estrogen. Current areas of investigation are elucidating how the deleterious neural effects of obesity (i) differ by sex, and (ii) interact with APOE4 and other AD genetic risk factors.


Contact Information
Mailing Address
University of Southern California
Leonard Davis School of Gerontology
3715 McClintock Avenue
Los Angeles, CA 90089-0191
Office Phone
(213) 740-4205
Education
BS, University of Southern California, 1985
PhD, University of California Irvine, 1994
Postdoctoral Fellow, University of California Irvine, 1995
Selected Publications
View a complete PubMed search
View a complete Google Scholar search
Moser VA, Pike CJ (2017) Obesity accelerates Alzheimer-related pathology in APOE4 but not APOE3 mice. eNeuro 4(3) pii. ENEURO.077-17.2017.
Christensen A, Pike CJ (2017) Age-dependent regulation of obesity and Alzheimer-related outcomes by hormone therapy in female 3xTg-AD mice. PLoS ONE 12(6): e0178490.

Jayaraman A, Lent D, Pike CJ (2014) Diet-induced obesity and low testosterone increase neuroinflammation and reduce neuron survival. J Neuroinflammation 11 (1): 162.
PubMed
Barron AM, Garcia-Segura LM, Caruso D, Jayaraman A, Lee JW, Melcangi RC, and Pike CJ (2013) Ligand for translocator protein reverses pathology in a mouse model of Alzheimer's disease. J Neurosci 33 (20): 8891-8897. PubMed
Barron AM, Rosario ER, Brown MA, Eltereifi R, and Pike CJ (2013) Sex-specific effects of high-fat diet on indices of metabolic syndrome in 3xTg-AD mice: Implications for Alzheimer's disease. PLoS ONE 8 (10): e78554.
Jayaraman A, Carroll JC, Morgan TE, Lin S, Zhao L, Arimoto JM, Murphy MP, Beckett TL, Finch CE, Brinton RD, and Pike CJ (2012) 17beta-Estradiol and progesterone regulate expression of beta-amyloid clearance factors in primary neuron cultures and female rat brain. Endocrinology 153 (11): 5467-5479. PubMed
Rosario ER, Chang L, Head EH, Stanczyk FZ, Pike CJ (2011) Brain levels of sex steroid hormones in men and women during normal aging and in Alzheimer's disease. Neurobiol Aging. 32 (4): 604-613. PubMed
Pike CJ, Carroll JC, Rosario ER, Barron AM (2009) Protective actions of sex steroid hormones in Alzheimer's disease. Front Neuroendocrinol.

30

(

2

):

239-258.

PubMed
Carroll JC, Rosario ER, Chang L, Stanczyk FZ, Oddo S, LaFerla FM, Pike CJ (2007) Progesterone and estrogen regulate Alzheimer-like neuropathology in female 3xTg-AD mice. J Neurosci. 27(48):13357-1336. PubMed
Yao M, Nguyen TV, Pike CJ (2007) Estrogen regulates Bcl-w and Bim expression: role in protection against beta-amyloid peptide-induced neuronal death. J Neurosci. 27(6):1422-1433. PubMed