Raymond L. Goldsworthy
Associate Professor of Otolaryngology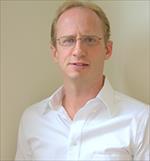 Research Topics
Music perception and the effects of hearing loss
Signal processing to improve hearing
Research Images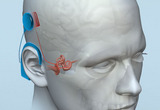 Research Overview
We live in a remarkable age when medical devices can restore hearing to the deaf, vision to the blind, and motor control to the physically disabled. Of these bionic devices, the bionic ear (i.e., cochlear implant) has been miraculously successful for restoring hearing to the deaf. People who receive a bionic ear generally have sufficient hearing restored that they can easily carry on conversations in quiet situations. However, in general, people who use these bionic devices struggle to hear in noisy situations and they also struggle to hear the nuances of music.

My research combines psychoacoustics and signal processing to solve these problems: to improve speech reception in noise and to improve music appreciation for people with hearing loss. My psychoacoustic work examines the relationships between basic measures of perception including pitch perception, loudness perception, and binaural hearing with more demanding speech comprehension tasks in challenging listening environments. My signal processing work examines novel solutions based on emerging methods including modulation enhancement, spectral sharpening, and multiple microphone spatial filtering. These research directions are an exciting avenue to explore how psychophysics, signal processing, and rehabilitation can be combined to improve hearing for the hearing impaired.

Contact Information
Mailing Address
Office 212
Caruso Family Center for Childhood Communication
806 West Adams Blvd.
Los Angeles, CA 90007
Office Location
Caruso Family Center
Lab Location
Caruso Family Center
Office Location
Caruso Family Center
Education
Ph.D., Harvard-MIT Division of Health Sciences and Technology, 2006.
B.S., Physics, University of Kentucky. 1997.
Selected Publications
Goldsworthy, R. L. (2015). Correlations Between Pitch and Phoneme Perception in Cochlear Implant Users and Their Normal Hearing Peers. Journal of the Association for Research in Otolaryngology. doi:10.1007/s10162-015-0541-9

Goldsworthy, R. L. (2014). Two-Microphone Spatial Filtering Improves Speech Reception for Cochlear-Implant Users in Reverberant Conditions With Multiple Noise Sources. Trends in Hearing, 18(0). doi:10.1177/2331216514555489

Goldsworthy, R. L., Delhorne, L. A., Desloge, J. G., & Braida, L. D. (2014). Two-microphone spatial filtering provides speech reception benefits for cochlear implant users in difficult acoustic environments. The Journal of the Acoustical Society of America, 136(2), 867–76. doi:10.1121/1.4887453

Goldsworthy, R. L., & Shannon, R. V. (2014). Training improves cochlear implant rate discrimination on a psychophysical task. The Journal of the Acoustical Society of America, 135(1), 334–41. doi:10.1121/1.4835735

Goldsworthy, R. L., Delhorne, L. A., Braida, L. D., & Reed, C. M. (2013). Psychoacoustic and phoneme identification measures in cochlear-implant and normal-hearing listeners. Trends in Amplification, 17(1), 27–44. doi:10.1177/1084713813477244

Goldsworthy, R. L., & Greenberg, J. E. (2004). Analysis of speech-based speech transmission index methods with implications for nonlinear operations. The Journal of the Acoustical Society of America, 116(6), 3679. doi:10.1121/1.1804628