David D. McKemy
PIBBS Guest Faculty

Associate Professor
Head, Section of Neurobiology
Department of Biological Sciences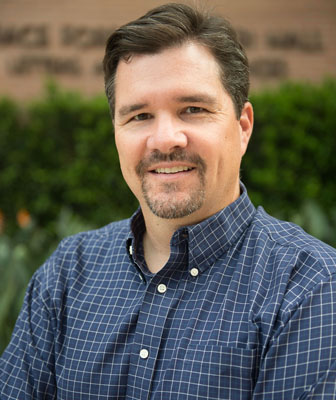 Research Topics
The molecular basis for the sensations of touch and pain.
Cellular mechanisms mediating sensitization after injury, or during disease.
Genetic basis of sensory signaling.
Research Overview
My laboratory is generally interested in the neurobiological logic behind our ability to detect touch and pain. These fundamental processes, termed somatosensation and nociception, respectively, allow for the detection of chemical, mechanical, and thermal stimuli, and can critically differentiate between innocuous and noxious stimuli. Peripheral sensory neurons are the principle sensors of these stimuli and convert these environmental cues into ascending neural activity. Research in my lab aims to understand the molecular and cellular basis of this fundamental sensory process.

We and others have begun to identify the molecules that are the primary detectors of thermal and painful stimuli in the peripheral nervous system. Using natural products such as capsaicin, menthol, and mustard oil, the active components of hot chili peppers, mint, and wasabi, respectively, ion channels that mediate the psychophysical sensations of hot (TRPV1, TRPV2), cold (TRPM8), and pungency (TRPA1) were cloned. Indeed, a conserved cellular mechanism has emerged in which members of the TRP (transient receptor potential) family of ion channels are detectors of thermal and pungent stimuli in sensory afferents.

To pursue our research interests, we use a combination of molecular, cellular, genetic, electrophysiological, and biochemical approaches in the laboratory to understand how these channels detect and transduce these discrete environmental stimuli. Specifically, we wish to understand how these channels are activated, what is their involvement in peripheral sensitization after injury or during disease, what are their roles in behavioral responses to environmental stimuli, and identify the neural networks involved in transmitting peripheral stimuli centrally.

It is our hope that these studies will provide insights into the mechanisms that lead to the formation of aberrant activity of sensory neurons involved in the detection and transduction of these stimuli, thereby leading to the development of novel therapeutic targets that can be used to alleviate debilitating conditions associated with inflammatory and neuropathic pain.

Contact Information
Mailing Address
University of Southern California
3641 Watt Way, HNB 228
Los Angeles CA 90089
Office Phone
(213) 821-5724
Education
B.S. Biochemistry, University of Nevada, Reno 1991
Ph.D., Cellular & Molecular Pharmacology & Physiology, University of Nevada, Reno 1999.
Post-Doctoral Fellow, University of California, San Francisco, 1999-2003