Jeannie Chen
Professor
Department of Cell & Neurobiology
Department of Ophthalmology
Zilkha Neurogenetic Institute
Keck School of Medicine of USC
PIBBS Mentor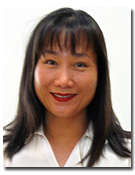 Research Topics
Signal transduction
Photoreceptor function
Retinal degeneration
retinal circuitry
Research Overview
My laboratory investigates regulatory steps in phototransduction and how defective signaling leads to death of rods and cones. We are also interested in how the input (or the lack thereof) from rod and cone photoreceptors affects retinal circuitry during development and disease. Our approach is to create transgenic mouse models using gene addition, targeted gene knockout or gene knock-in for introducing subtle mutations. These lines of mice then serve as platforms for multidisciplinary studies. Our area of expertise is in molecular biology, biochemistry and various imaging modalities that include light microscopy, electron microscopy and fluorescence microscopy. We collaborate with electrophysiologists who use single cell recordings and multi-electrode arrays to record from a large population of retinal neurons to study cell and retinal circuitry function.
Contact Information
Mailing Address
Zilkha Neurogenetic Institute
1501 San Pablo Street, ZNI-227
Los Angeles, CA 90089-2821
Office Phone
(323) 442-4479
Education
B.A., Occidental College, 1983.
Ph.D. USC, 1990.
Post-Doctoral Scholar, Caltech, 1995.